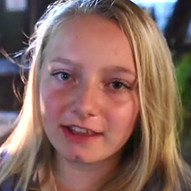 Young ukulele player wowing crowds with her own songs
By Vincent T. Davis, Express News Staff Writer
January 1, 2018 Updated: January 3, 2018 10:34am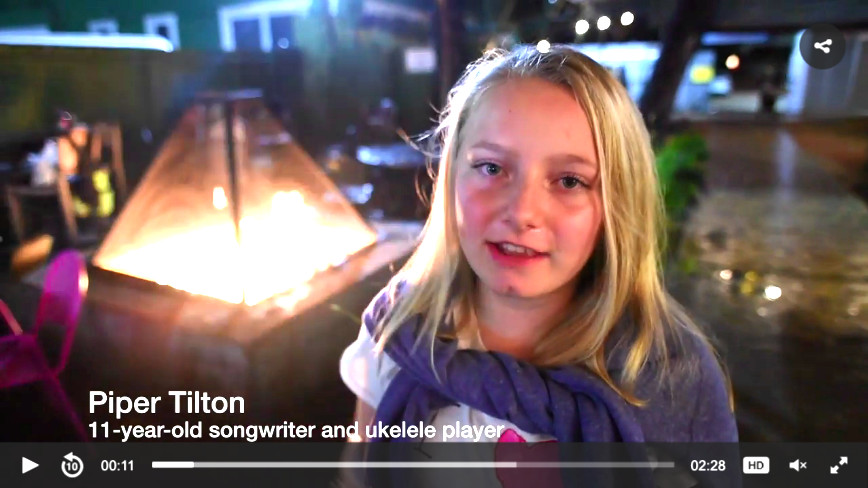 Piper Tilton's interest in the ukulele began at the tender age of 6, after hearing a cousin play the instrument that's grown in popularity among all ages in recent years.
Cousin Allison showed her how to play two chords, and as Piper practiced, lyrics came tumbling out about everything she'd encountered in her young life.
Since then, Piper's love for songwriting and playing the ukulele have made her a mainstay at open mic night at The Cove restaurant.
Recently, when host Niko Laven called the night's first performer, Piper ambled to the worn, carpeted stage awash in red neon light.
Her low-top, classic Chuck Taylor sneakers faded into the shadows as she walked past a speaker, topped with a signature-filled notebook and plastic water jug, with the words "band tips" written in black marker up the side. The end of a knit scarf draped around her shoulders disappeared behind the ukulele, which means "jumping flea," in Hawaiian.
"Hello, my name is Piper Tilton," she said, "and I'm 11 years old."
Cheers rang out from the small crowd that included her mother, father and brother as she strummed the four-stringed ukulele and belted out original songs about a pocketful of stamps and showing the way to those who are lost.
Sitting on bar stools, Monica Rodriguez, 43, and Rudy Ortiz, 51, watched Piper close out her three-song set as the crowd yelled for one more song. The duo gave a nod of approval as the young singer obliged the guests' request with her version of "Let It Snow."
"She was actually pretty good," Rodriguez said. "If I had any advice for her, it would be to just follow her dreams."
For the past four years, Piper's name has been on the sign-in sheet at open mic nights at The Cove, located at 606 W. Cypress.
The sixth-grader's playing and seasoned vocals have captivated guests at the eatery that's featured a wide range of acts including bluesman Ruben V, The Lavens family band and John Magaldi's Prime Time Jazz Orchestra. She has performed three times on KSAT-12's "SA Live" television show and at local art shows and private dinners.
She said some older listeners find it hard to believe that she writes the lyrics to her songs.
"What I see out in the world is all my inspiration," Piper said. "It's just what I see every day and my experience."
Her "gigs" began after her mother, Marye Saunders, who was a private party coordinator at The Cove, asked Piper if she'd like to play at open mic night. The youngster said she'd like to try, but Saunders had one stipulation: She'd have to play early so they could get home before her bedtime.
"This was the perfect venue for her to start out," Saunders said. "They loved her and she was very comfortable. She amazes me and touches me with her music every day. We're extremely proud of her."
Young ukeleleist writes songs of comfort…
Piper Tilton, 11, writes her own songs and plays ukulele at The Cove on Dec. 19, 2017.